Who we are
Mission
To be an agent of educational change through the STEAMs, to improve the future of the children and young people of Panama.
Vision
To lead the educational change in our country, through our approach in the STEAMs and the constructivist method inspired by Seymour Papert and Jean Piaget.
Values
Passion

Honestly

Compromise

Team Work

Perseverance
The origins
Panama STEM emerged in 2014, when after living the technological educational gap that existed between Panama and the countries of the first world, Lorena Degracia and Marvin Castillo decided to be part of the solution and be a spark of change at the national level. In December 2014, teacher Lorena Degracia began her educational path through her training and certification in educational robotics with LEGO® Education and the Learning of the Aprender Haciendo (Hands on learning) methodology. Then in January 2015 from a study room at her home, Teacher Lorena began an After School program for children's in the neighborhood as well as from friends and acquaintances. In just a few days, the news about this new robotic initiative was viral and all the available seats were filled starting this adventure of teaching the future to hundreds of children who have gone through our programs. "The children would throw themselves on the floor crying when the parents came to look for them and they would tie themselves to Teacher Lorena's leg so they would not be taken away from classes", recalls Marvin Castillo adding, "I had never seen children who did not want to leave a school and that would cry because they are taken away from their school. " It was there, at that point that Lorena and Marvin decided to look for a place to open an extracurricular learning center, where the vision of Teacher Lorena was to open this innovative educational initiative, in Ciudad del Saber.
Alliance with the City of Knowledge
Stephanie Lievano from the Innovation Center of Ciudad del Saber received our online application to belong to this educational community, and was delighted with the project from the starting. And so, in March 2015, the first coding and robotics classrooms of the country were opened under the constructivist methodology inspired by Seumour Papert and Jean Piaget, always under the support, enthusiasm and advice of the Innovation Center of the City of Knowledege, its Director Manuel Lorenzo and all his work team. Today Panama STEM Education owns two educational centers where extracurricular courses of: Educational Robotics, Sciences, Biology, Physics, Mathematics, Creativity, Etc ... are imparted in a fun and innovative way. In addition, Panama STEM Education is a proud official partner of LEGO® Education for Panama as well as other innovative educational technologies such as LABSTER and TETRIX, distributing nationwide laboratories and STEM-focused learning materials.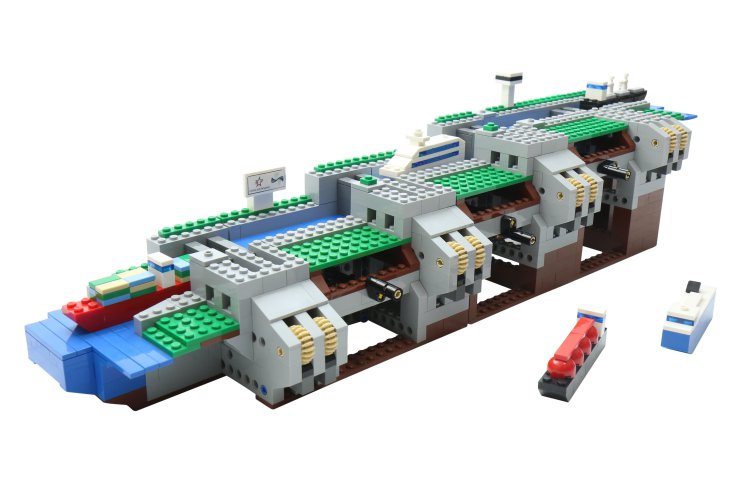 The LEGO® Education Panama Canal Set
Always focused on educational innovation, in 2016 Panama STEM together with LEGO® Education and the Panama Canal Authority designed and created the first STEM (Science, Technology, Engineering and Mathematics) set of LEGO® Education based on one of the Modern wonders of the world such as the Panama Canal and its Third Set of Locks. Today the Panama Canal LEGO® Education set is distributed from Panama through Panama STEM's online store, all over the world and has become one of the most appreciated sets by AFOLs, LUGs and STEM Teachers alike.
Towards the Future in Search of Strategic Partners
Panama STEM recognizes its vision and mission to be a leader and agent of educational change, therefore it is in continuous search of alliances and strategic partners who wish to operate educational centers based on the curricular developments created by Panama STEM throughout the country. This to continue generating interest in the STEM Education, while reinforces the participation of civil society in this educational revolution that is beginning to take force in our country.